Ford F150 5.4L 3V Triton Engines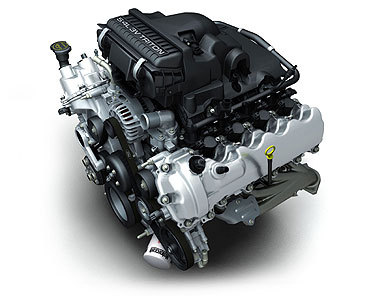 Ford F-Series Trucks as a whole, remains the most popular trucks and most sold trucks in America today. The best-selling F-Series Truck of course, being the F-150, can be deemed as America's Truck of Choice. In fact, the F-150 happens to be not only the best-selling truck in the United States, but the best-selling vehicle in the United States almost every year for the past 30 years. F-150's reliability, best in towing, and now-a-days luxurious take on trucks separate them from the rest of the pickup truck competition. F-150's also come in many trim levels such as the Luxurious Platinum, Western Influenced King Ranch, Power Driven Lariat, XL, XLT and many other trims that Ford offers.
In 2004, Ford F-150's were introduced to a 5.4L 3V engine to boost performance. The 3 valve SOHC cylinder head concept was meant to improve the power and torque of the 2004 through 2008 F-150 engines. Ford F-150 5.4L engines average about 300 horsepower with a combined 17 mpg.  In comparison to the same year's F-150 4.6L engines, they average 231 horsepower and also get a combined 17 mpg. Ford ultimately found a way to boost the performance of the F-150 with the 5.4L engine while maintaining the same fuel efficiency. Although the fuel efficiency of the 2004-2008 Ford F-150's are not flattering, at least the 5.4L engines can offer more power and torque for a better towing experience.
Replacing a 2006-2008 Ford F-150 5.4L 3V engine with a used engine can be a pretty easy process. Fortunately, the 2006-2008 Ford F-150's that carry 5.4L 3V engines with VIN V as the 8th digit can be replaced with any year in between. Ford did it right by making the 5.4L 3V engines compatible for years between 2006 and 2008. By doing so, they made the unfortunate and daunting task of finding a used F-150 engine plausible by having a 3 year window to make fitting the used engine possible.
SWEngines makes buying a used F-150 5.4L engine simple by offering an online instant quote form. The online instant quote form will show if the used engine is in stock as well as our competitive low price to make your buying experience a simple and positive one.