Infiniti FX35 and FX50 Engines
Infiniti, the child company of Japanese automobile maker Nissan produces premium vehicles that achieve a new class of quality in the production of their lines of luxury vehicles. Their competition just won't offer what they do for their price.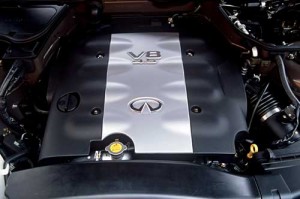 The Infiniti 2010 FX line has two engine options available, the V6 and V8. Whether or not you find the power of the FX35 V6 engine enough or opt for the V8 engine which is provided with the FX50 package depends on if you'll need hauling power and the ability to accelerate from zero to sixty in five seconds. If you opt for the FX35, the rear-wheel-drive of course gets a better mileage than the available four wheel drive and you'll lose the ability to drive both on-road and off but there is a four-wheel-drive option available as well for those who like the ability to control their own path and drive off-road.
The four-wheel-drive model is available in the Basic Sport Utility package along with the Infiniti V8 engine. With the 5,026 cc, 5 liter V8 front engine outfitted with a 95.5 millimeter bore, 87.7 millimeter stroke, 10.9 compression ratio, double overhead cam, variable valve timing and camshaft with a total of 32 valves. You won't find the Basic Sport Utility package lacking for power accented by Infiniti's typical luxury car attributes.
Whether it's the "Infiniti Intelligent Key" Push Button Ignition to it's Rear Active Steer system – the premier of this system in an SUV you won't find this vehicle lacking. The rear-steering system helps add a degree of response and stability while features such as the push button ignition to cutting edge navigation and entertainment systems help remind you that this is a machine of the future and the features that flesh it out won't let you forget it.